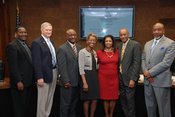 Visiting Teacher
Welcome to the Visiting Teacher Home Page!
Attendance:
Florida law requires each parent/guardian of a child from age (6) to sixteen (16) to be responsible for the child's school attendance. Regular attendance is the actual attendance of a pupil during the school day as defined by law and regulations of the state board.
The school attendance law was amended by the 1997 Florida Legislature to require that any sixteen or seventeen year old student withdrawing from school must file a formal declaration of intent to terminate school enrollment with the district school board.
A student is considered "truant" when he/she is not in attendance without approval of the principal and/or consent of the parent/guardian. School-based interventions will occur for all truant students. A student is considered a "habitual truant" when he/she has 15 unexecuted absences within 90 calendar days.
Responsibilities:
Students are required to attend school every day. If absent, a written note from the parent/guardian stating why he student was absent must be brought to school on the day the student returns. The principal shall consider each absence as being either "excusable," "permissible," or"unexcused."
It is the responsibility of the student's parent/guardian to notify the school when his/her child will not be in attendance. The school is to be notified of an absence the morning the student is absent or within twenty-four hours.